Year 7 Premiers grab first win of season
After rain interrupted plenty of the junior games and all the midget games on Waitangi weekend, the weather came to the party for the weekend beginning February 12 and there was a welcome result for our Year 7 Premier side – well done boys! 
(Pictured on this page are players from the Year 5 Vikings, plus Jason Kay, one of those who performed well in the Strikers' first win of the season)
Year 5 Vikings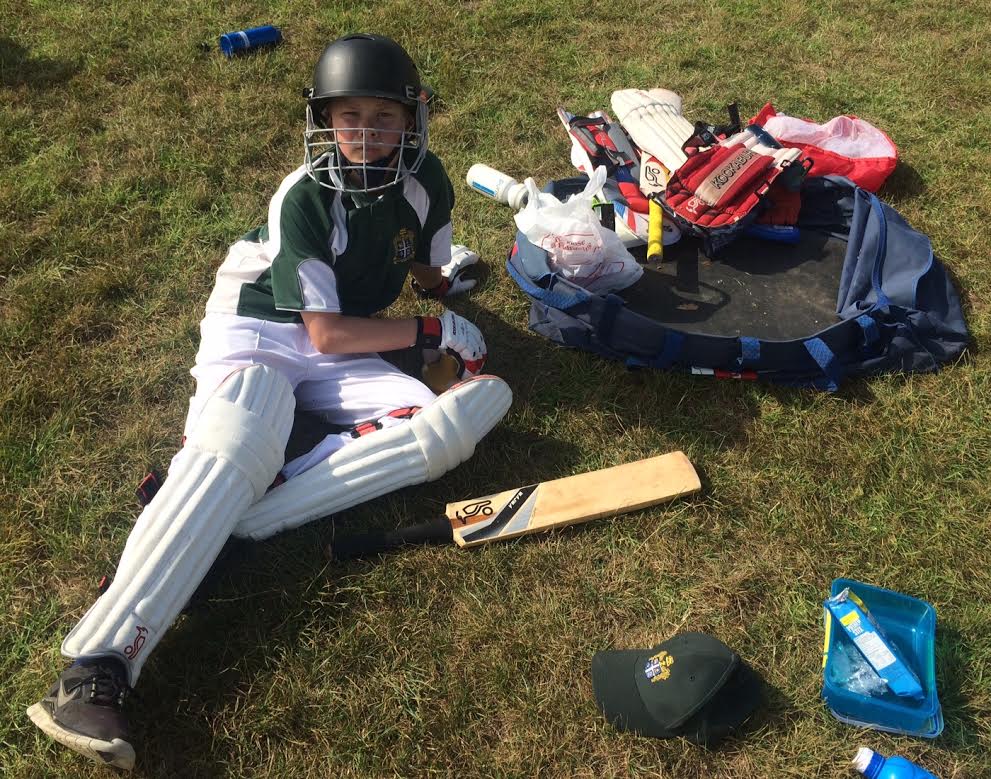 Playing at Campbells Bay Primary, ECB Willows batted first and put on 140/4, with Jared (2 for 13 off 4) and Harry (1 for 14 off 4) our best bowlers. Aiden also picked up a wicket.
Our new player Toby fitted right in and was a deserved player of the day with some tidy bowling a good stint at keeper. He also batted twice as we were a player down. We still need to work on our urgency while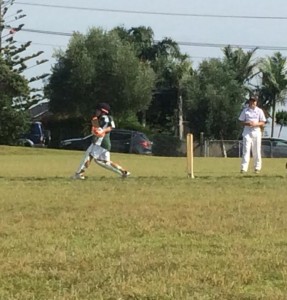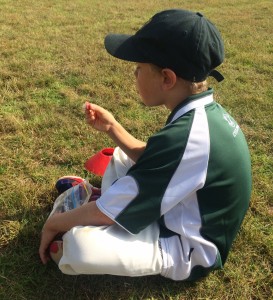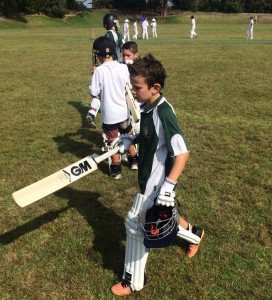 fielding but all in all a pretty solid effort.
We started well with the bat.
The score was 49/0 at the end of the first partnership, with Harry scoring 24 and Josh 13. Leo added a solid 18 runs, Jared 10 and Toby ended up with 20 (batted twice). In the end losing more wickets than the opposition was the difference between the teams after the maths was done. (Five runs are subtracted for each wicket lost at this level.)
We scored 138/7, but lost by 17 runs after the count-up. Our team is still playing with one player short most weeks, but with Toby joining the team we should be okay next week. Lots to work on, but the team did put in 100% on a hot day. – Greg Hart
Year 6 Curtling
Birkenhead Curtling managed to play on Waitangi weekend, playing their game on Monday February 8, and although coach Matt Godward was a little bit nervous – as the team had had no opportunity to practise since Christmas –  his fears were soon allayed. After winning the toss against Takapuna O'Dowd and deciding to bat, BCCC Curtling's innings was dominated by Dominic Hawkins and Sam Godward. Both players retired, having reached 30, but then were able to continue their innings after the rest of the team were out. Dominic finished on 48 not out, and Sam on 37, run out off the last ball. Curtling reached an imposing total of 169. Takapuna were never in the race, finishing on 88 from 27.1 overs. There was some outstanding bowling and fielding, particularly from Everton O'Leary, who bowled two maiden overs, Ollie Dooley (two for nine off three overs) and Aaron Fialho (two for three off 2.1 overs). Connor Muirhead and Harry Price both ran out players with direct hits.

The team played North Shore on February 13 at Bayswater Park.  Curtling batted first and an opening partnership of 43 between Ollie Dooley and Ollie Leitner got us off to a great start. Ollie D made 18, and Ollie L was sadly caught out on 29, just one run short of retirement. Curtling then began losing wickets fairly frequently, but their score was made respectable by a quick 21 not out from Connor Muirhead. Connor faced only 10 balls and scored 3 fours and 1 big six.
North Shore lost their first wicket in the second over and their innings never got going. They were all out for 51 off 17.1 overs. Highlights for Curtling were another direct hit run out from Connor, his second in consecutive games; wicketkeeper Mitchell Tucker coming on to bowl and getting a wicket from his first ball, ironically a caught behind taken by opening bowler Dominic Hawkins; and two fine catches from Ollie D. Wickets were shared around, and it was a great team effort in the field. – Rebecca Hawkins
Year 6 Green (aka Tulloch)

The boys had a bye.
Year 7 Pacers
The Pacers didn't play on wet Waitangi weekend but our cricket got underway again on February 13 at Kaipatiki Domain. We played top of the table Cornwall Fleming and a few of the team seemed a bit daunted by the opposition before the start, but the clear message at the Pacers' team chat was that if we play well we can beat these guys. Things started well with the visitors doing a "McCullum" and calling the toss incorrectly. As a result, captain for the day Taine  chose to have a bowl on a track heavy with morning dew. The Cornwall Fleming openers didn't seem in a hurry to score many runs and the score was kept low with few runs off the bat initially. However, the Birkenhead bowling attack did seem a bit rusty after the long holiday break and Mr Wides was Cornwall Fleming's top scorer on the day.
Eventually, the wickets did come and it was Joe Fell who got us underway with a great piece of fielding and a direct hit on the stumps to run out a Cornwall batsman for none. This was soon followed by a lovely piece of bowling from Shayan who made a mess of an opposition middle stump and Cornwall Fleming were now 33 for 2 wickets. A good partnership followed for Cornwall Fleming before Orlando and Shayan combined to end their party at the crease. Fine bowling from Orlando and a nice catch by Shayan sent their top scorer (30) on his way. After several chances on Jeremy's bowling he decided to do it all himself with a c&b with the final ball of his second over to huge cheers from the Birkenhead supporters.
Joe Fell must have gone to the "Jonty Rhodes fielding academy" over the summer holidays as he had another direct hit atthe stumps. Not content with this Joe then combined with Taine behind the stumps for another run-out leaving Cornwall on 86-6. However, they did not lose any more wickets and finished their innings on 108-6. Birkenhead Pacers had limited them to only 60 runs off the bat which is excellent work by the whole team, but they did give them 38 wides, 3 no balls and 6 byes. But I'm sure everyone will do better next week when the shoulders are a bit looser and we have had some more time in the nets.
Several good contributions with the ball in hand from Shayan, Jeremy and Orlando who all picked up a wicket each. Also Orlando and Sebastian bowled maiden overs and Vivek and Joseph bowled zero wides. Ben, Brandon and William all contributed with the ball too. Joe Fell was excellent in the field as well and captain fantastic Taine was constantly talking to the team and keeping everyone focused and in good spirits. Well done boys.
Needing only 4 an over to win, the batting brief was too take your time, keep your wicket and punish the bad ball. However, things did not go to plan at the start. We lost both our openers cheaply, as Vivek and Joseph were caught out on zero and four respectively. Taine was then run out for 3 in a mix up between him and Joe. By now the Pacers were only 11-3 and were staring defeat in the face it seemed. The brief seemed to have been forgotten about as none of our three wickets were down to great bowling, more a case of not keeping your wicket and some excellent fielding by the opposition.
Not for the first time the ship was steadied by Joe and Shayan who put on an excellent partnership. Cornwall seemed to think the game was going to be an easy victory, but Joe and Shayan showed them that the Birkenhead Pacers are made of strong stuff. Team Fleming were rattled and decided to employ some dastardly underhand tactics as bowler after bowler attempted Mankad run outs.  The situation soon peaked when Shayan was again Mankad and a huge appeal resulted in a Mexican standoff between the Cornwall team's third leg umpire and a few Pacer parents. Eventually, common sense prevailed and Shayan reclaimed his crease. The next ball was priceless as Joe spanked the unsporting bowler to the boundary for four runs. This was the turning point in the match and you could feel the momentum shift in Birkenhead's favour.
Unfortunately, Shayan was then caught on 16, but his contribution was enormous as the Pacers had recovered to 52-4 wickets. In came Sebastian to partner Joe and these two were on fire. A very mature partnership soon developed with both blocking the good balls and punishing the bad ones. Seb was playing like Martin Guptill, spanking fours all over the ground and then a massive six to boot! A really great innings well supported by Joe who was finally caught for 13 runs with the Pacers on 96-5. Nathan then supported Seb at the crease and this pair took us home as we reached 109 in the 24th over. A cracking win for the Pacers which was very enjoyable indeed and a real team victory.
It's always nice when man of the match is a difficult decision and several boys had put their hand up yesterday. However, coach Andy and Umpire Ray both agreed one performance stood out and that Sebastian and he was man of the match after his awesome performance with the bat. Well done Seb who will be captain

 

in two weeks

'

time. – Pawl Victor

Year 7 Strikers (Premier)

It's taken a while, but the Y7 Prems finally got their first win of the season, cruising to a very comfortable 6 wicket victory over Takapuna with a full 10 overs to spare.
BCCC Captain Will Hawkins won the toss and chose to bowl first on a hard, bouncy track, looking to apply earlier pressure. The ploy of using a leg spinner to open worked a treat, with Nathan Holloway picking up a wicket in his second over. Paceman Spike Ruffell removed the other opener in the 6th over to have Takapuna struggling early on. The visitors consolidated and threatened to get away before Spike and Pat Faulkner ripped through the middle order, picking up 3-3 in 6 overs. Takapuna finished up on 146/7 off 40 overs, reflecting a great bowling performance (Spike 6-1-27-3, Pat 6-2-12-1 and Travis Gower 5-3-13-1)
Needing 3.5 runs and over BCCC openers started cautiously, losing opener Nathan Lyndon early before a 71 run stand between Jason Kay (32) and Spike Ruffell (28) steadied the ship and put the Strikers on course for victory. Travis Gower brought the team home with a well played 25*, ably assisted by Cam Smith who swung lustily in hitting three boundaries at the death.
The end result was 6 wicket victory to Birkenhead off the back of a great team effort. Well done boys – awesome victory!  – Steve Ruffell

Under 12A Girls – Dragons
The Dragons, who have moved up a grade after winning the pre-Xmas competition didn't play on Waitangi weekend. They were back in action on February 13, but the girls narrowly missed out on a win to Cornwall Carnachan in a game in which the bat didn't do a lot of talking (wides were the high score, for both teams, by some way!). With the Dragons a fielder short, the game came down to the BCCC girls requiring 1 wicket or Cornwall getting 2 runs off the last over.
The final over played out as follows: 1, dot, dot, wicket, 4. Yes the girls got a wicket in the last over, but alas it was an angel wicket. That's cricket. Well done girls, great effort and it was an amazing game to watch.
Final score Dragons: 3/104 and Cornwall Carnachan 6/108.   – Kevin Nicholas

---
---