Birkenhead City Cricket Club is the proud home of nine senior men's cricket teams. We have teams playing Premiers, grade cricket, one day cricket and T20. Whether you are looking for a social team to have some fun with, something a little more serious or you are the next Kane Williamson, we have a team for you.
We also have an affiliation with Last Man Stands, which plays a modified 8 a side T20 format on Thursdays at our clubrooms.
If you are interested in joining the Birkenhead family, please get in touch with the club manager at office@birkenheadcricket.co.nz. Whether you have just left school or are getting on in years, have played for the last decade or never before, are a native Aucklander, or grew up in Bangalore, we're sure to find the right team for you and get you out there playing cricket.
Premiers
PREMIER REPORT
The team had a seriously topsy turvy year starting off getting hammered by a few very strong teams in the One Day Competition. We then went into the Two-Day Competition and initially came unstuck against North Shore but fought back bravely on day two to force a draw.
We took this momentum into our match against Eden Roskill where a fine century from Dylan Steyn and an equally disciplined all round bowling performance gave us a morale boosting 1st innings win.
Unfortunately, the season became very difficult from there on due to losing players to injuries, work commitments and absenteeism to attend family matters/functions. This had us scrambling for players as well as trying to find the right balance in the team.
There was a silver lining in that we found a real gem in Usman Ghani. His deceptively fast swing bowling troubled many batsmen and his savage batting was a joy to watch. I was also very impressed with his work commitment in that he would turn up to practice whether he was injured or not and still get involved which makes him a great role model.
It was not all doom and gloom in that we had a few exceptional performances by individual players. In the One Day Competition Tony Treadaway's polished 109 and aggressive 5/56 against Parnell was by far the best all round performance of the season. He also followed this up with a 112 against Ellerslie which resulted in a nail biting last ball loss.
In the Two-Day Competition Dylan Steyn added an inventive 123 run century (a reverse sweep to go to his ton….Really) against North Shore and our new wicket keeper Nipun Perera achieved 6 stumpings which was the most in our league.
Jaycob Curtling has been a stalwart at the club for many years and is unfortunately not planning to return to us next season as he is taking up a building apprenticeship in England. Across all competitions this year he was the 2nd top run scorer with 642 runs and he took 21 wickets which also makes him Birkenhead Premier's highest wicket taker. In his time at Birkenhead, he has also won 114 playing caps. Jaycob thank you for all you have done for the team as both a leader as well as your consistent performances. We will miss you as you will leave a huge hole to fill. We wish you the best of luck in the UK and please remember you will always be welcomed back with open arms.
Tony Treadaway is also going to play in England as he wants to give his cricket a full go. We wish him all the luck and hope that he is very successful. We will watch his progress from here with interest. Tony if you can bring back a replacement for Jaycob (preferably a quick bowler) we will be very appreciative. Tony you had a great season for us ending with 600 runs and 20 wickets making you the second highest wicket taker in Birkenhead Premiers this year. But we also need to thank you for stepping up and taking a leadership role when we needed you.
Dylan Steyn was our top run scorer, again, with 705 runs and he has also won 101 playing caps.
One of our biggest problems at the beginning of the season was us losing matches due to dropped catches. The team have worked hard at correcting this and we ended off the season taking some exceptional ones. Most memorable were, Jeremy Houghton's reaction catch against Eden Roskill, George Blackmore's stunner against Ellerslie and Luke Steyn's 1st slip catch against Suburbs. This side of Christmas dropped catches became the exception and not the rule. Well done guys.
After our last match I was approached by one of the umpires who said to me "Your side has been an absolute pleasure to umpire. They have been disciplined and although sometimes disappointed with decisions have continued to play the game without abusing us and playing in the spirit of the game." This is a huge compliment and we have also seen more decisions go our way in the latter part of the season compared to the beginning. I know that this is not always easy but I'm proud of you all for this change of attitude and believe we will be rewarded for it in the future.
Although we ended off the season with a loss to an extremely powerful Suburbs side who went on to win the competition. The match before that we played against Waitakere who had beaten us outright in the 1st half of the season. This was a fantastic match where we were defending 203 runs and managed to pull off a rare 1st innings tie. This was achieved by everyone working together and playing for the team. This is the spirit we hope to take into the next season.
We will be planning an off-season training schedule which players will be invited to as well as planning a few pre-season matches so that we go into next season firing on all cylinders.
Thank you, Dylan Piper, (our conscientious scorer) for all your hard work as well as your intuitive observations that you imparted to me on our trips back home. You are a valuable member of our team and we look forward to seeing you again next year.
Thank you also to the board and especially Damian Hagoort for all your support be it in the form of equipment, indoor nets as well as sage advice it was most appreciated. It will also be great to have our home field back next year as it will make for a more coherent Premier and Reserve teams.
Mark Steyn – Coach
Read more about Premier cricket here.
Reserves
RESERVES REPORT
After a short time out of the reserve grade, BCCC will have a reserve side in the 2021/2022 season.
Two Day Cricket
Two Day Cricket is played among the more serious teams entered into various grades in the Auckland Cricket competition.
Season playing dates are here (click on the full season calendar for the detail for your grade). As well as the Premier sides, we have three teams playing one and two day cricket this season, the B1s, B3s and the C1s.
B1s
SENIOR B1 BLIZZARDS REPORT
I must say we had a cracker of the season with highs and lows but at the end we are a proud team with our heads held high. Our one day season has started with a family team and in a family way. We had a good start but collapsed and lost. This trend kept on happening till the start of the two day games. We lost our all our one day games except the last game against Auckland University. As soon as two day games started, our team has shown a completely focused and professional approach. We got our first innings win against Papatoetoe and took our one day revenge. We have just lost an innings but draw the game with score level in second innings. We come very close to win an outright after first innings lost where we needed to score 226 in 27 over and scored 225/6 and drew the game. This game will be in our memories for long time and it was completely team efforts and our strength to come back and deserved the respect from other team.
I would like to mention our weak points this season and it's our fast bowling. I am getting old and I have tried hard to keep up with the fitness but still can't produce the opening spells which I did a couple of years back. We suffered with a shoulder injury to our promising young bowler "Harjinder Singh" and keep tracing our second fast bowler "Anurag".  This season, we have also lost our long time Star all-rounder Gaurav Sharma.  This is a huge blow for a team to lose three good players.  At the same time, our team was fortunate to have few new faces to rescue the difficult times. Thanks to Himadri for bringing his friends. Our new faces for this season were Palwinder, Avishek, Rohan, Vishal and Gaurav.
In two day team standing, we are at number 3 and score 2492 runs. We have total 6 centuries but highlight was 3 in one game.
Overall it was a good season for me and for the team. Hope we stick together for next season and win our grade
B3s
SENIOR B3 APRICOTS REPORT
 When thinking about this seasons write up, it has all the themes of seasons previous from the Apricots. However, it was a new season and with new difficulties and new successes. The boys said goodbye to Hamesh (Monkey) Prajapati last season and new recruit Nick (Macca) McConnochie the Apricots in theory were good for numbers. But the President and Vice President forgot to accounts for Nak being unavailable for almost a month because he got a tattoo and MSD being on limited availability due to paternity leave meant the Apricots were reeling for numbers early in the season. However, a few early season transfer from the reserves namely Manny Seidel and Kyle Williamson and Nak returning from his tattoo healing the Apricots didn't have to call many reinforcements over the rest of the season.
Newcomers Manny, Kyle and Nick definitely provided their weight in gold with the bat in many occasions helping us to get through to respectable totals. It is important not to forget the efforts of some of our returnees this season. Pre hitting his straps this season along with hitting 16 long bombs with his Kaboom, Vinay (/Vineyard/Sugarfree V/V) hitting his maiden 50 along with a remarkably more improved season. Vinay was able to hit opposition bowlers through backward point at will regardless of their field settings. Nak scoring 71 and together with K-Dub forming a solid foundation for a great run chase against Papatoetoe on the BWM number 3. However, the key batting highlight has to go to Manny Seidel. He has now taken the reign for the Apricot to get closest to 100, with a solid 97 v Papatoetoe on a slow, low turning track.
The bowling has been the mainstay of the Apricots since their inception however, this season took a bit of a hit in the early games. With Nak away healing his tattoo, MSD on paternity leave and Paddy returning from a shoulder injury in the off season the bowling stocks were somewhat depleted as (with no other options available) Jav had to take the gloves. The boys rallied well in early games, but with a lack depth it meant that almost 500 of the 715 overs bowled by the Apricots were bowled by Manny, Goose, Georgie and Panish. Unfortunately for the Apricots the most promising bowler club award curse hit Panish and after picking up 26 wickets last season he finished this season with 14. However, the rest of the bowlers got amongst the mahi and there were several 4-fers including one from Pre "gets a wicket whenever he bowls" Jeram. This season produced two 5 wicket bags. Jav v Grafton nabbing 5/44 and Manny backing up his 97 with the bat with 6/71 v Papatoetoe.
Although, the fielding for the Apricots had improved it still is a weakness for the lads. With not many turning up to training it was hard for the boys to improve their fielding. Overall though, the season was thoroughly enjoyable. From the captain I would like to thank the lads for not acting out like other teams (even though I got fined for losing control of the team, go figure) and contributing to a season which showed the bond we have as a unit. Some boys may not have got their full opportunities but to turn up week in and week out shows a testament to the brotherhood within this team and it going forward. Just be weary your results next season might see you getting dropped to prems haha.
Javeed Ali – Captain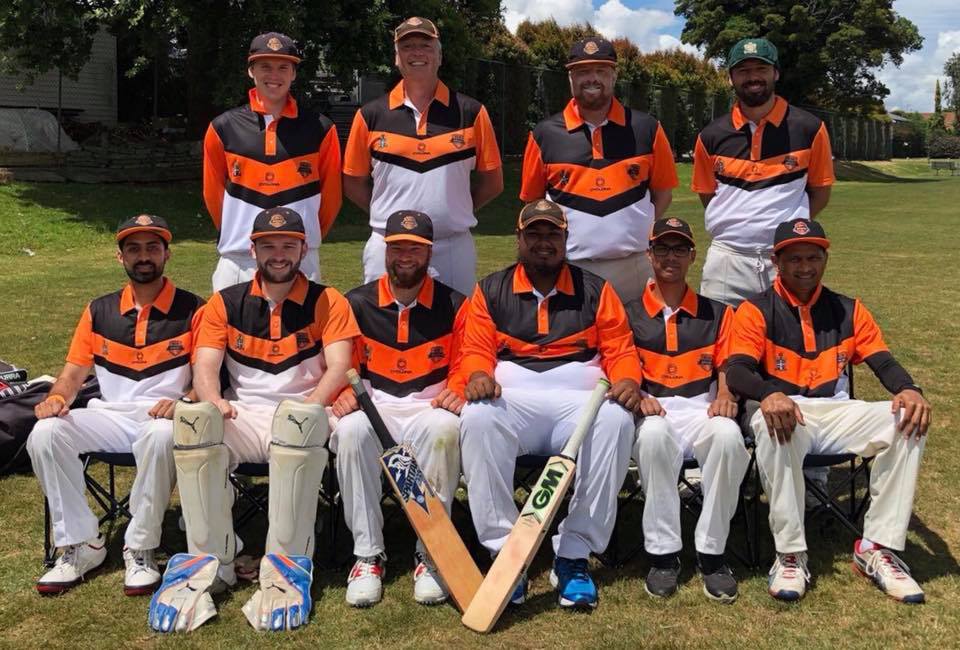 One Day info
If you are interested in playing one-day cricket, please contact senior convenor Damian Hagoort on 021 065 6460  or email office@birkenheadcricket.co.nz  
There are all sorts of levels available from serious to social.
Our clubrooms are a family-friendly environments wives, girlfriends and kids are more than welcome there and on the sidelines at games.
Season playing dates are here (click on the full season calendar for the detail for your grade).
This year we have One Day 4As, 4Bs, 3As, 3Bs
ONE DAY 4As
ONE DAY 4A/4B REPORT – 4B GRADE WINNERS!!!
 Sports writing tradition states that we should describe the season chronologically, and since everyone loves a good narrative arc we'll start at the beginning, also known as the bottom.
It started in a field in Kumeu, freezing our arses off, on the coldest day playing cricket in 20 years. Fortunately, our standard bearer, Hams decided to show mercy on the huddled masses and allowed hoodies on the pitch for the first time ever, still bloody cold. That game ended in a loss. A bit of a precursor for the rest of the first half of the season.
Not much happened in that first half, we didn't really take many wickets, score many runs or have many players on the pitch. So yeah, we didn't win many games – one, in fact.
So the evil overlords of the ACA decided we were degrading the high standards of the 4A grade, sullying them with our presence and were promptly demoted to the lows of 4B, aka, the bottom grade.
Thank heavens that they did. The standard wasn't much worse, but we really clicked. It could have been the different grade, it could have been Daz's towelling fishing hat, but most likely it was the general lift you get to your game when playing with someone of Matt Bulmer's calibre. Bulmer really hit his straps in the second half of the season, generally turning up, really adding presence to the team. This, coupled with Daz, Thumps and Jimmy taking some decent wickets and Hams scoring a lot of runs meant that we started to string some good wins together.
We really got some momentum in the second half of the season, played some good cricket and enjoyed the process. We all felt really proud of the way we strung together three wins at the end of the season, including a very tight win against Oratia.
In the end we came out on top of 4B, winning the team's second pennant.
Special mention must be made of Matt Bailey's outstanding job of captaining the side. It's an incredibly thankless task and he does it wonderfully well. From the entire team, thank you Matt.
Top ten moments for the 2017/2018 season:
10. Amit, Drew and Matt T's entrance to the team, glad to have you lads on board
9. The two generations of Taylor men turning out
8. Daz's side on direct hit run out against Takapuna
7. Bails forgetting and then losing the scorebook for a game
6. Thumper showing his arse to half of Avondale
5. BULMER, BULMER, BULMER!
4. Ham's 375 runs
3. Daz finally taking the most wickets in the team, 16th time lucky
2. Jimmy's maiden five wicket haul
1. Winning the 4B grade, well done lads
Andrew Gale – Captain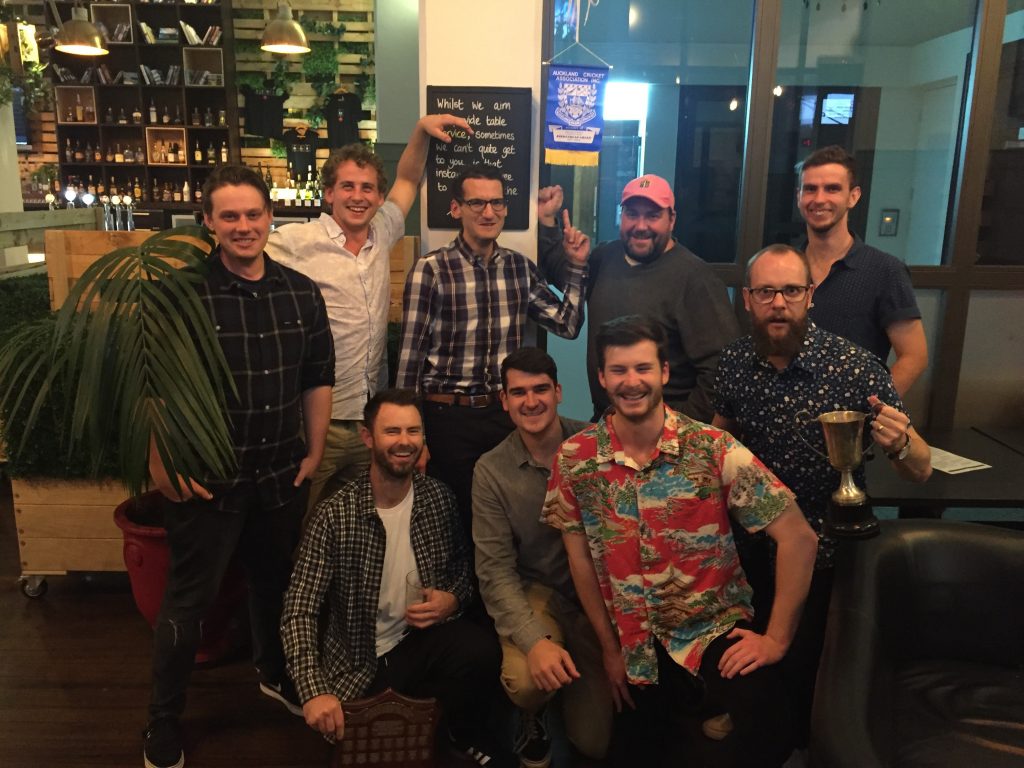 ONE DAY 4Bs
Captain is Qaiser.
ONE DAY 3AS
Most of the players are staff and students of the International College of Auckland and their captain is Faiz Rasool. News about their team will feature on this page through the season.
ONE DAY 3Bs
ONE DAY 3B REPORT
 Writing this report is significantly more difficult than last time. Going into the season we lost all of our young guns (primarily to play in grade sides, thanks a lot Shaf!) and that left us with some rather large holes to fill in our roster. While we all tried our best to fill in for their absence, the season results prove that we didn't manage to achieve this. A pretty rough year all told where we only managed to pull together 3 wins out of 12 games (we had 5 rain outs and a bye as well, which is unprecedented). The end result being our demotion from the lofty heights of 3B, down to 4A.
Never the less I think most of us would say we still enjoyed playing cricket this season. Winning obviously helps but we've got a nice bunch of guys to play with and luckily the beer still flows if we need to drown our sorrows.
Highlights of the year were Colin's bowling, a ring in (Cam) scoring 119* off 38 balls, finally beating our nemesis Takapuna side and 'intentionally throwing' our game against Birkenhead Cornered Tigers (we lost by 290 runs).
Welcome to our four new team members; Bhavin, Blair, Niran and Savith. You all fit in really well and it was a pleasure to have you guys with us. When considering whether to play again next season please do note we don't normally suck this much.
I'd also like to mention our fondness for poultry this season. We managed to have a total of 23 ducks (pretty sure we had another one or two from ring ins) between us, that's an impressive 1.92 ducks per game! Special shout outs to Blair and Niran for contributing four each, as well as Colin and Steve for being the only people to not get any.
Also a well-deserved shout out to Jodie and Lisa for scoring every week. We really appreciate it and our book is the envy of the grade (in fairness probably all the grades).
All in all, better luck next year lads… it can't go much worse!
 Seton Wingfield (Batsman and Player of the Season):
Seton had another solid season and was the only player to really step up and perform this year (particularly with the bat). He continued opening the batting and was by far our best batsman scoring 392 runs (including a century). He regularly got us off to good starts only to see the rest of the team fail to capitalise and undo all his hard work.
He also bowled a lot more than previous seasons. The fact his leggies actually turn, quite a lot, proved to be pretty deadly and he picked up 12 wickets. I remember one over in particular where the opposing batsman played and missed (by a mile) 5 balls in a row.
If we had all performed like he did we would have won a lot more games.
 Elliott Molesworth (Bowler of the Season):
Elliott had a pretty good year with the ball picking up 20 wickets at a rather miserly 4.59 per over (including a 5 wicket bag). I often chucked him the ball when we were in trouble and he regularly picked up a wicket or two to get us back on track. I will admit I still don't know how he gets so many wickets, a slow bowler, who gets no turn, with a team that can't catch… who knows?
His year with the bat however was another story. 45 in the first game implied it was business as usual and he'd be challenging for the batting trophy as he usually does. However apart from another 45 he failed to reach double digits during the season. I also feel obliged to mention he got less runs than I did, mainly because I suspect I won't be able to say that ever again!
Bhavin Mehta
Bhavin is the first of our new players for the season. He had a few injury issues he was managing throughout the season which impacted the performances he was able to put on the board. He bowled some pretty good spells, though I still don't know why he insists on starting around the wicket. Similarly a couple of good efforts with the bat bodes well for next season. A pleasure to play with and one of the nicest guys I've met. I will say I'm still not convinced the round of hugs was required on the last game before the Christmas break though!
Blair Guptill
Blair is newbie number two and I think it's fair to say he would be rather disappointed with how his season turned out. He always looks amazing in the nets and initially we thought we'd found an ideal number three to solve all out problems. It wasn't meant to be though and with the exception of a 47 in the first game and a 24 later in the season he didn't trouble the scorers too much. With that said I'm pretty confident that if he can get past the first couple of overs next season he'll be raking in the runs on a regular basis.
I'd also like to give him a shout out for his fielding, one of the few decent fielders we have. He even stood up and put on the keeping gloves in one game when asked. He also gets major bonus points for bringing Cam along one game so we could watch him smash a crazy hundred.
Colin Watson
Colin had the best year with the ball since I joined the side (and that was a long time ago). He went from a part time bowler to an integral part of our attack. He led the wickets tally for most of the season until he had to miss a few games at the end and Elliott snuck past him to pick up the trophy. Still a great year though and 15 wickets at less than a run a ball is an impressive return to form, one we all hope to see continue in the years to come.
I'm tempted to comment on his batting but given he only faced 19 deliveries this season I'll cut him some slack.
Damian Hagoort
This season wasn't my worst with the bat (162 runs) but it wasn't my best either. A pretty rough start to the season with a 25 being the only notable score in the first 5 games I played. Got into decent form after that with a 28, 41 and 47 (26 balls)… failing to kick on was frustrating.
I also managed to pick up a couple of wickets this season which I was pretty happy about. The fact I had to bowl at all says a lot. For the same reason I had to bowl I ended up wicket keeping for about half the season, so Wayne could bowl.
I should probably also mention that I managed to drop two simple catches in one game. One of which I managed to drop 'into' my eye… surprisingly none of my team mates had any sympathy for me and my black eye.
P.S. I filled in for a game for prems this season, due to a last minute withdrawal. As such I'm now a 'premier' cricketer. Take that my lack of skill, talent and ability!
Luke Hopewell
All in all a pretty tough year for Luke this season. He started with a couple of contributions with the bat then fell away. He managed to hit the ball into his face batting, which is starting to get a bit concerning for everyone (it's about the third time). He struggled to get much rhythm with the ball but started to find some form towards the tail end of the season which should give him some confidence moving forward.
Even if he's struggling Luke is a great guy to have around the team. His attitude and willingness to do whatever is required for the team should be an example to all cricketers.
Matt Towler
Matt came back to us after a long absence this season and I would say it was a pretty decent return. While 7 wickets and 66 runs might not sound impressive they don't tell the whole story. Matt didn't get as many overs as he'd like, and probably deserved, but almost every time he did… he took a wicket. He also had a couple of solid contributions with the bat, in particular a 31.
His attitude on the field is excellent, no matter what Matt did this season he put 100% effort into it, doing whatever he could to help the team. I'm hopeful that Matt will be back next season as there's a lot to work with and with a few more opportunities I'm sure his stats will be significantly more impressive.
Niran Jamal
Another new recruit for the year Niran had a pretty rough introduction to 'social' one day cricket. Similar to Matt he always gave everything he had to give, even if results didn't always reflect that. He made a number of handy contributions with the bat this season which were somewhat overshadowed by the 4 ducks. With any luck he'll get over his duck fetish and push on next year.
Niran also has the dubious honour of being the only person in our team with a decent arm in the field. A standout being a run out from the boundary in one of our last few games.
Savith
Our final new player for the year, Savith had a pretty strong start to the season though unfortunately ended up missing the later part of the season. He was the only bowler with any pace we had and due to that fact the opposition often just played him out rather than be aggressive. He easily could have picked up more wickets with a stronger partner at the other end. Never the less 10 wickets at 21 and an average of 14 with the bat is pretty good for a first crack.
If he returns next season I'm sure there's many good things to look forward to.
Steve Thompson
Steve had a pretty quiet year, due to some external issues, he wasn't able to bowl or bat as much as he would have liked (he did manage to go through the season without being dismissed). I know we all still loved having him around and we would surely miss his experience and company if he were to hang up his boots.
From a personal perspective I really appreciated the help Steve gave me on the captaincy front. His sage advice on field settings and bowling options made my life so much easier. In retrospect I probably delayed implementing his advice a number of times, only needing to admit a few balls later that his call was the right one. He was also more than prepared to tell me I had to bat further up the order as I regularly dropped myself down to give others opportunities.
Steve is a real team man and will often do double umpiring stints if required. A pleasure to play the game with.
Wayne Everett
Wayne was the second top run scorer for us this season but unfortunately that says more about how badly others did than how well he went. With that said he regularly made starts but wasn't managing to push on like he has in previous seasons to make sizeable contributions.
Wayne also stepped up this year and took on more of the bowling workload getting through 41 overs and picking up 11 wickets at 23. I'm not bitter at all about having to wicket keep half the season at all to make this happen.
Wicket keeping as per usual was top class and he provided many insightful contributions and sound advice for the skipper when we were in the field.
Damian Hagoort – Captain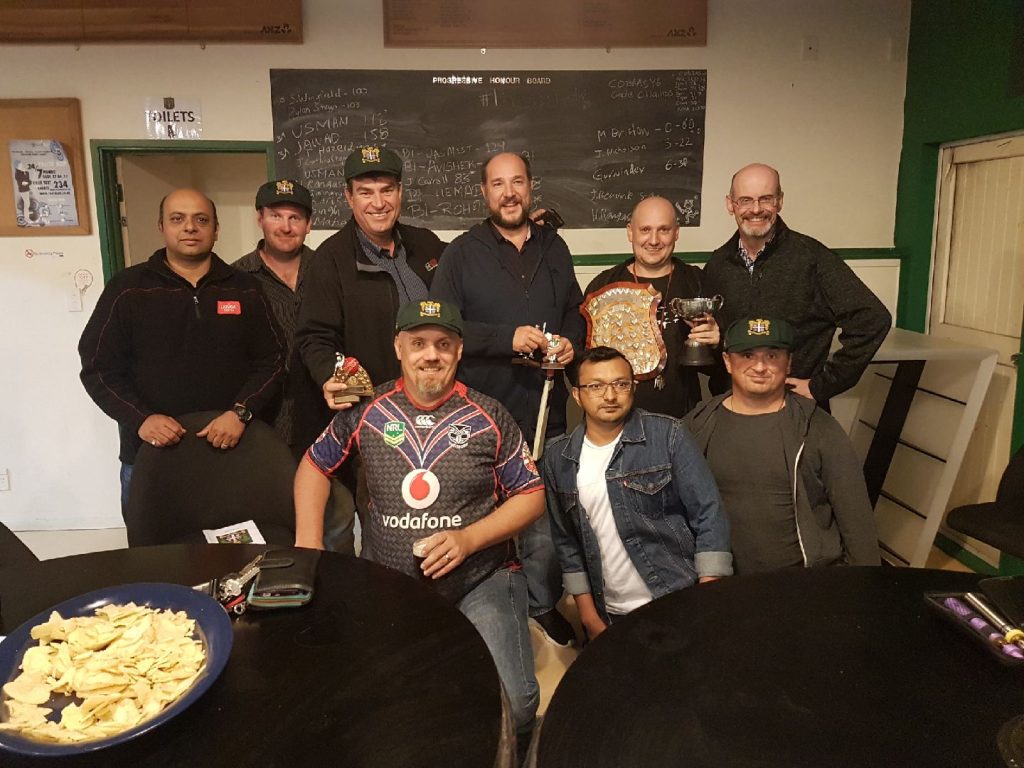 T20
Auckland cricket runs a T20 competition on Saturdays and Sundays. If you are interested in entering a team the games start on October 31/November 1 so please contact Damian Hagoort ASAP on 021 065 6460 or email office@birkenheadcricket.co.nz  Update: No teams entered the season before Xmas. If you have a team to enter after Xmas (when the weather is better!) please let Damian know now.
Birkenhead Cricket also hosts the Last Man Standing T20 from the Last Man Stands North Shore competition every Thursday night. Detail about LMS are at the LMS site.
We are also looking at the possibility of running a youth T20 competition during the season. Check back here later and if you are interested in playing or entering a team please email Sabina. office@birkenheadcricket.co.nz
SAT T20 Report
We had a good to an average season, last season – ended up finishing 2d on the table (with closely missing on being on top of the table)
Key Contributors this season:
Best Batsman: Dipesh Limbachiya (Aka: Deep)
Dipesh has consistently provided a start for us in most seasons we've played & this season was no different, His game & the master strokes which comes out of his blade when he's in the zone are great to watch. However, his obsession with trying new Bats continues…
Dipesh had also reluctantly taken up wicketkeeping for our side & unfortunately for him he's now stuck with it as it turns out – he's one of the best keepers we've tried to fill the spot with 🙂
Best Bowler: Krunal Patel (Aka: Mc Krunal)
Most fearsome & well-known bowler in our SAT T20 league;
Left arm Fast & hits the deck Hard – Always.
Krunal has been the Go to Bowler for our team & never fails to deliver; with his unique left arm style, he gets even the most experienced batsmen's in the league a workout & consistently surprises them with his natural pace & bounce.
Only thing Krunal needs to work on & is aware off – are the variations in his bowling.
Which our plan is to introduce & trial a few in the upcoming season.
All Rounder & Finisher: Ankur Tailor (Aka: Rocky)
What can I say about Ankur when he's got his SS Bat in his Hand, almost 6 ft tall & someone who doesn't like to run – Any Bowler in any team needs to vary & be prepared to be smashed all over the park
Few Tips for the Bowlers against Ankur –
Don't bowl to him in his Arc on Middle / Leg side
Don't bowl to him in his Arc on Middle / Offside
Don't bowl full toss or loopy deliveries
Basically, only ways to keep him quiet, are the perfect Yorkers or deliveries with some brutal pace…
In addition to his batting – Ankur has this knack of picking pick up key wickets when needed, bowling medium pace with lots of variations – utilizing all his tactical cricketing senses.
New additions: Rishi Dave
We've welcomed the very passionate Rishi Dave this season – who's provided much need stability in the middle order with his batting skills & who also can chip in with his Medium pace bowling. He's been a great addition to our team & fits in perfectly with our core group of players – who are always ready to hit the ground, regardless of weather, play times, etc…
Other Contributions:
Rishi Gagandeep (Aka: Ravan)  
Has not had best of the seasons, last season, compared to previous few seasons; especially the season when his dad was here – joining to watch all our games, also, understandably due to his new increased workload; but we know he will bounce back this upcoming season – trialing his two new Spartan bats. As
BTW Rishi is the only player in our team last season who hit a monstrous six @ losing the Ball.
Mihir Joshi (Aka: Josh)
Always looking for Wickets & someone who puts in 100% all the time & every time when he gets on field … Even After Moving to his new home in Howick – he still always joins us all the way from Howick, no matter where in Auckland our next game is.
His Dravid Style Batting & ability to play the ball so close to his body has taken our entire team by surprise; wherein, starting as a bowler in our team, has almost accomplished, an all-rounder position in a couple of seasons, in our team; which is a great improvement for him personally & to our team's balance.
Best Win of the Season
Played with 8 Players & put up a decent Total (159 / 20 overs) – Still managed to defend it.
Overall a great season; had a few issues with our fixed players' availability, so had to manage with few ring in's, but we are certain to fill in all the empty slots before the start of our next T20 season & look forward to coming back on top, of the group rankings.
Would like to add, special thanks, to Akash Christian for all the support throughout the season & appreciate update our team on news & activities.
Sagar Acharya – Captain