Great start to the junior season
The cricket season kicked off in full force for the kids on the weekend of October 30/31, beginning with the inaugual Friday night midget cricket season, a first for the club. With 12 teams playing and a lot going on, it was a busy night!
Then on Saturday the junior cricketers' (Year 5 to Year 8) season began and the weather was close to perfect for much of the day.
The Year 5 Birkenhead Vikings team headed to Stanmore Bay for their first match, playing Hibiscus Coast. They just lost their game by 9 runs which was fantastic considering most of the team are newbies. Team manager Greg says the team could do with a couple more players. Year 5 teams play with 8 but they currently have 7, and it's always good to have an extra player througout the season. Call Greg on 021 953 030.
(Also there are 9 teams in one of the year 6 pools (creating a bye) so if anyone has a whole team ready to go they could still play! Contact Stacey Nicholas our junior convenor. ksnic@yahoo.com)
Coach Craig Hazeldine's Year 6 team won their game with Sam Hazeldine starring with the bat, 38 off 23. Birkenhead made 148/5 in 22 overs; Tom Beattie scored the first hat trick of the season, taking 3/5 helping restrict North Shore to 93/6. Sam Kay also got 2 wickets. Scorecard
The other year 6 team, Curtling, played at home and also won, by 60 runs. The boys looked very sharp for their first game of the season, with some great bowling in particular in that side (BCCC's website person watched much of the game). But opening the batting for Birkenhead was a first time cricketer Jasper Watson who looked like a budding talent, making 35,with some great cricket strokes. Dominic Hawkins impressed with the ball, lightning quick, and was looking good with the bat before being controversially run out via a mankad. Not a happy moment. Aaron, Abdur and Harry all took early wickets, clean bowling the Hibiscus Coast top order and the wickets kept coming with some good accurate bowling. Player of the day was Harry who bowled two overs, one for one, and also took a catch. Merit award went to Jasper.
The Under 12 girls team, the Dragons, impressed once again, this time playing their first season of hardball. Playing Ellerslie (45/5) they scored 121/1. This is the Quick Hit team that won their grade in softball cricket last year and this year have moved into hardball so are already showing it's a smooth transition. Their games are played at Melville Park.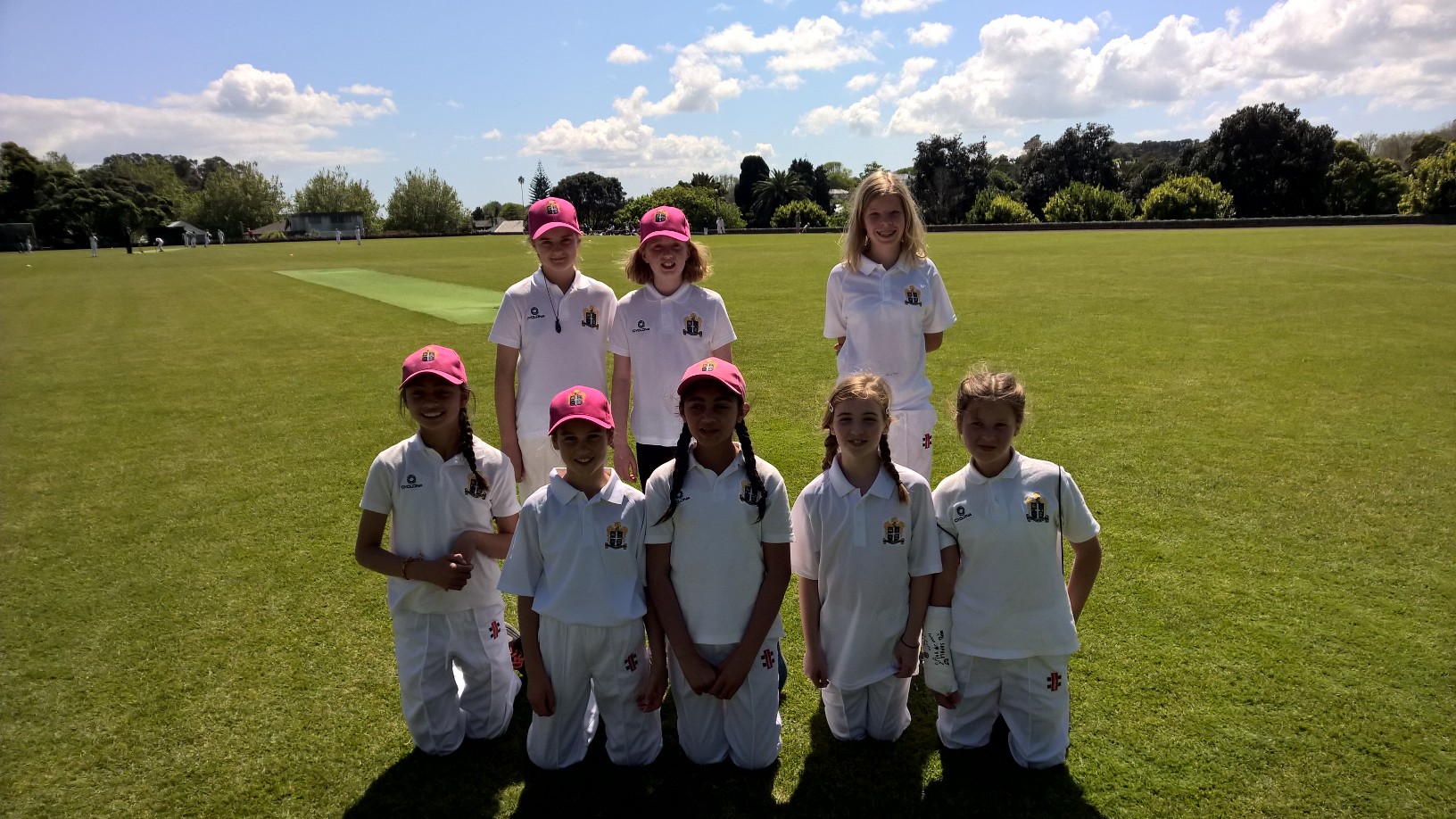 The Year 7 Pacers morning team  had a big win in the players' first-ever match over the harbour bridge, playing in the Auckland Domain. The team lost the toss and batted first making 180 for just 3 wickets after their allotted 28 overs. Joe Reid retired with an impressive 58, Taine Victor (captain on Saturday) made 38 before an unlucky dismissal when he played on. The players produced a wide range of shots including some useful defensive ones when required.
In reply, Grafton made 139 for 7. Joe Fell bowled 3/19 off 3 overs, Shayan Poorekhorsandi bowled 1/5 off 3 overs (including a wicket maiden), Joe Reid bowled 1/10 off 3 overs. The other two wickets were run outs during Shayan's bowling, one was a stunning throw by Joe Fell at cover, the other was by wicket keeper Seb Marsh after a great throw from Jeremy Ballard at deep fine leg. Team manager Andy Ballard said it was great to hear all the boys encouraging one another during the game and was a great start to the season against a really friendly and welcoming Grafton team.
The Year 7 Strikers Premier afternoon team faced tough opposition first-up in University. BCCC captain Will Hawkins won the toss and sent University in to bat on a slow and bumpy outfield. After an initial fiery start from BCCC quicks Travis and Spike, the University batsmen took advantage of some short-pitched bowling and set about building a large total. The Birkenhead bowlers toiled hard but struggled with line and length and paid the price, with University piling on 256/4 off their allotted 40 overs. Spike and Cam picked up a wicket each, with the team pulling off two sharp run outs.
It wasn't a good day for the BCCC batsmen either, with wickets tumbling regularly to have the team reeling at 28/7. Patient lower-order stands from Nathan/Vivek and  Jimmy/Cam brought the total to 71 all out in the 34th over. Nathan (Jimmy) Holloway finished on 16 N.O.
Coach Steve Ruffell says this is the team's first foray into the premier arena and despite the big loss, there are plenty of positives to focus on. "There's a fair bit of work ahead for sure, but plenty more opportunities to come."
SHOUT-OUT FOR YEAR 8 PLAYERS: The Year 8 team have had to default as they do not have enough players. This team plays a half season in the mornings up until Christmas. Do you know anyone who needs a team? They don't even have to be a year 8, we can get dispensation for a year 9, and also younger players could also play.  Please email parkyz.coaching@xtra.co.nz or ksnic@yahoo.com 
If anyone has any photos from Friday night's midgets cricket or any photos of teams other than Year 6 Curtling please email them in. denisemontgomery.cricket@gmail.com
---
---