Energiser Allan impresses in early games
Fraser Allan is pacing. He's up and down, he's done a few laps of the field. Sits down. Stands up. Does another half lap of the field. And then he's back again.
Asked if he ever stands still, he says "Not really, I've got a lot of energy".
He'll wear you out just looking at him.
He managed to sit still long enough to have a chat to reveal how he ended up as wicket keeper at Birkenhead City Cricket Club halfway through this season.
He said something wasn't adding up in his life. Well he's an auditor, he would say that.
He'd taken a couple of years off cricket while he was studying,  but a bit of fossicking around home one day sparked a few memories.
"I was looking through the garage and I saw all these age-group tournament pictures where I was playing with, or against, guys like Kane Williamson, Trent Boult, Hamish Rutherford and Jimmy Neesham… and I thought, I love the game I need to get back into it and give it a shot."
So he worked things out and pulled his pads on again.  He played his cricket for Counties-Manukau district, which falls into Northern Districts' catchment, all his life. He'd been the Manurewa High School First XI captain  and played premier club cricket for Manukau City,  but after a bit of time back in the game, he felt if he was to progress he had to move.
The left-handed wicket-keeper batsman was opening the batting for his Manukau side, but wanted to dodge and weave his way around the bowling of stiffer competition.
"I heard that Auckland runs things really well, and I just wanted to get into a club that played premier cricket in the Auckland competition," the energetic 24-year-old says.
He had a chat with Jason Mills who mentioned that Birkenhead City was down a wicket keeper after Allan Plant had been transferred for work to Tauranga. Jaycob Curtling was holding the fort while BCCC coach Neil Fletcher had a look around.
Synchronicity being as it is, Allan was welcomed into the side and immediately demonstrated his talent and determination in his first match.
Playing Takapuna, BCCC were in dire straits at 77/7  in the 28th over. Allan came in at 8 and hung around, determined to add some respectability to the score. He finally fell in the 44th over on  55, but had inspired the tail to wag even more for another 70 runs. BCCC was all out for 203 and went on to lose, but it could have been a lot worse.
There was a bit of "who is this guy"? on the sidelines, even from BCCC supporters.
Since that time he's played two two-day matches has scored 125 runs, still batting down the order.
"I'd like to bat up the order a bit," he says on a recent  day when  BCCC fell to Parnell. As if to prove a point, shortly after making that comment Allan bounces out to bat, at number 7. His 66 in the second innings was his team's top score (as was his 34 in the first innings).
"I want to keep going… see where it all goes. If I go well, maybe Auckland A could happen one day. I've got heaps of energy and just want to play more competitive cricket," he says.
Coach Fletcher rates his new keeper highly. "Fraser has brought an energy and enthusiasm into the fielding unit. He is a highly skilled keeper, and as someone who has opened the batting in the past, he has contributed some valuable runs in the middle order," Fletcher says. 
"I've been really impressed with his attitude and hard work, and he provides plenty of banter to keep the lads going. While he has only played a few games, he has already made valuable contributions and I'm looking for him to finish the season strongly."
In just two two-dayers leading up to the finals, he had taken 6 catches and had one stumping.
Allan has joined the club at a good time. It sits in the top four for the Hedley Howarth Trophy (the Auckland premier two-day club competition) and there's plenty of opportunity to impress.
"I'm enjoying the club a lot… it's good to play against really good players and in a good environment," he says.
He doesn't find the distance a chore either, even though he and his fiancee live in Te Atatu. "Well, I work in the CBD so it's really only 20 minutes to training after work even on bad traffic days," he says.
But you'd half expect if there was a problem with the traffic, he'd just run to training anyway.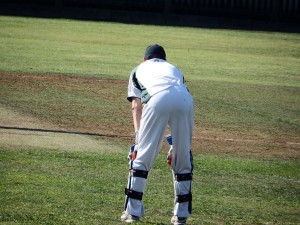 Betsoft gokkasten + casino spelletjes | Overzichten – YouTube
---
---