Denise Montgomery recognised at Auckland Cricket awards
Birkenhead City Cricket Club is proud to announce that long-time club volunteer Denise Montgomery has been recognised at the annual Auckland Cricket award dinner for her efforts in volunteering at BCCC for around 15 years. She has won the Carson Cup for outstanding contribution by a club volunteer.
Chairman Andrew Gale says it's deserved reward "for someone who has channelled a huge amount of passion for cricket and the Birkenhead community into the club".
Below was BCCC's submission to Auckland Cricket:
"Simply put, every club needs a Denise. It's not just the fantastic love she has for the game and its place in the Birkenhead area but the wonderful level of skill, energy and understated dedication that she brings to her volunteering.
 
"For around 15 years Denise has contributed to Birkenhead City Cricket Club in a number of ways. From being a fantastic Midget and Junior co-ordinator, seeing playing numbers rise to all-time highs, to reviving the Club of Origin tournament, a gateway for secondary school players to their senior club, she has been instrumental in helping the club grow and survive.
 
"Of late, Denise has been our media manager, keeping our web and social media presence on top of its game, providing a brilliant way for our community to keep in touch with what's going on across the entire club. She has also taken on the role of unofficial club photo documentarian.
 
"And as if that's not enough Denise even helps out with the odd bit of Premier scoring.
 
"All at BCCC owe Denise a huge thank you and we cannot think of a better recipient for the Carson Cup."
Denise Montgomery received her award on Wednesday April 12 at the ceremony dinner at Eden Park.  She says she was genuinely shocked: "I went along thinking it was great to have Wednesday night off work … I normally work that day … and I hadn't been to one of these ceremonies for a few years. I couldn't believe I was called up … and it was a bit funny to hear my name read out by one of my work colleagues, Geoff Bryan, who was MC for the evening!"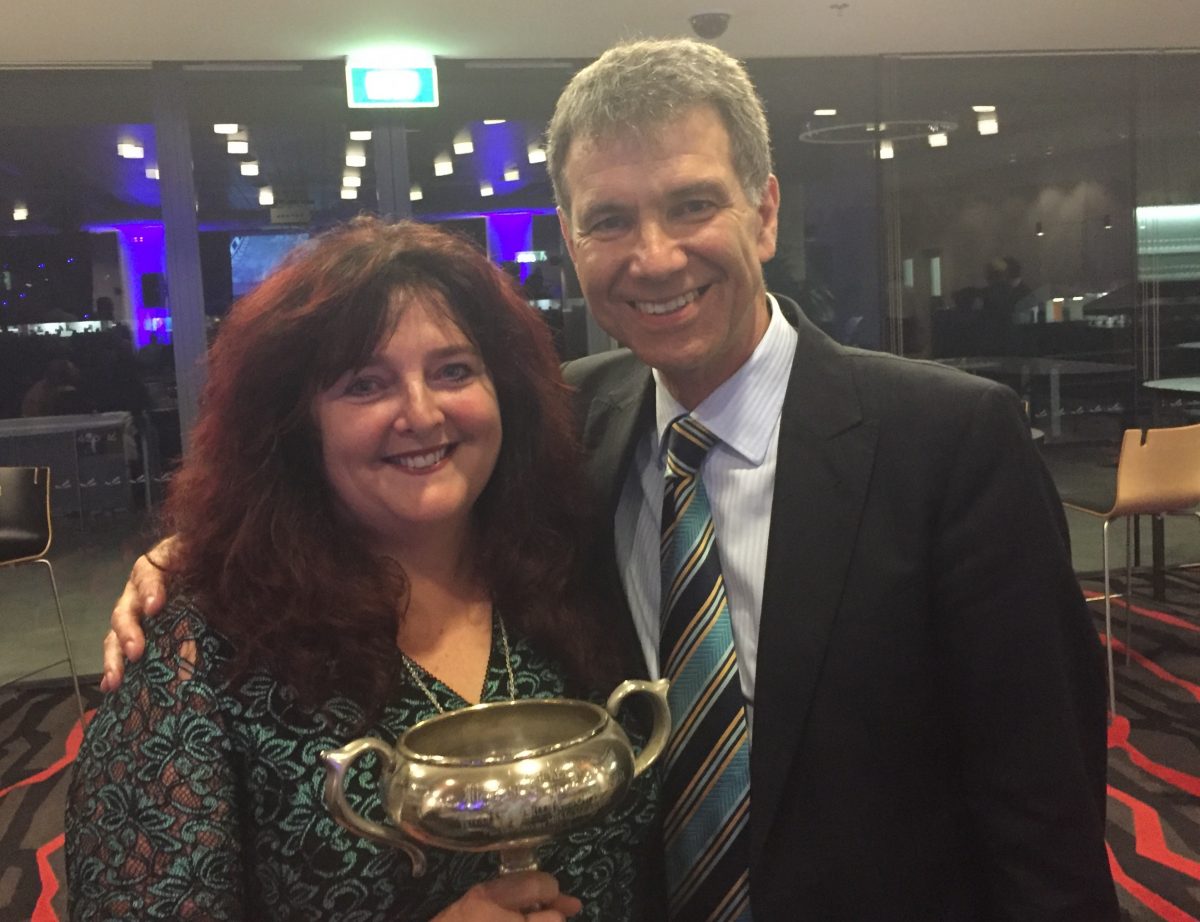 Denise says she came to volunteering at the club by default.
"I had a child playing midget cricket and I thought it wasn't being run that well, and it just frustrated me, so I thought rather than moan about it I'd get on the committee and do something about it," she says.
Over the years she has been midget convenor, junior and youth convenor, women's cricket organiser and Communications and Marketing Director. Lately she has endeavoured to squeeze in maintaining the club website and social media in between shiftwork and family commitments.
"My genuine love of cricket is the reason I've stayed involved with the club although it's not as a parent any more.
"I really like to see the kids have their names up in lights at whatever level they're playing… that's why I've kept doing what I can. As a journalist …  the website and Facebook, for example, are things I can do relatively easily for the club."
She says there's no doubt the life of a cricket volunteer can be tough on those doing it and their families.
"The Superstar cricket and senior convenor roles are pretty demanding … and you do spend a lot of time balancing the needs and desires of the children, parents and the club," she says.
"Registrations, team allocation and then prizegiving consume many volunteer hours, and often come down to one person, so if there are any more out there who'd like to put their hand up, please don't be shy … there's also a huge amount of satisfaction in making the players and parents happy… and getting them back every year."
BCCC is fortunate to have had a lot of passionate and dedicated coaches helping out this season and Denise says it's really good to see.
"These people are the ones who make such a huge difference to a club … because without volunteers, clubs couldn't survive.  But if people don't feel confident coaching, there are always behind the scenes jobs – fundraising is an area people can help for example… and I think the Superstar convenor and junior convenor roles are coming up next season."
Denise says she is also very humbled to have been recognised.
"It's a rare occasion I am lost for words … but I actually was. I'm genuinely stoked to have been recognised. It may even beat the happiness I get from having the camera rolling when one of our Superstar cricketers takes a wicket!"
Previous North Harbour winners of the Carson Cup include Ross Parlane and Tim Simmons, and other names to grace the cup since its inception in 1945 include Gary Troup, Peter Guptill (Martin's dad), Mr Tom Hellaby who won it twice, Hedley Howarth and Rex Hooten in 1984, who presented the award to Denise on the night.
Read about WN Carson, whom the cup is named after here.
Read the full list of Auckland Cricket 2017 award winners on the night here.
---
---